Dance & Activism: One Billion Rising - Call for Videos!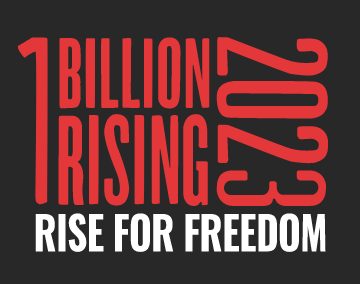 Use dance to be part of the Global Event One Billion Rising beginning V-day (February 14) and lasting through to Earth Day (April 22)!
Your participation in this event supports the decision made at the daCi conference in Taipei to respond to the call of "One Billion Rising; Strike, Dance, Rise" focused on stopping violence against girls and women on a global scale.
Other examples from the 10 year history of this incredible project of empowerment can be found here: https://www.onebillionrising.org/about/dance/
The idea is:
1. Plan a "flash mob" dance that includes a video upload to the daCi website showing your group and ending the dance with a large sign stating, e.g., "daCi [insert country name] One Billion Rising: Strike, Dance, Rise – stop violence against girls and women."
2. The video will then be uploaded onto the daCi website together with other countries drawn from our daCi community around the world! Remember to have video release forms signed for all who will be in the video.
3. As we post the videos we would begin the day with New Zealand, moving across the globe through Australia, Asia, the Caribbean, America, and Europe. Although our dances can be presented as we move around the world, you can create, perform and film your dance at a time that suits you and your community and upload between February, 14 to April 22!
A message from Adrienne Sansom:
"I hope you can join me in this global call to stop violence against girls and women and make our voices heard as women, children, people and dancers. If you can plan to join this event please let me know. You may even like to perform the dance where you are located and take photos or videos that could be uploaded from different places. It would be great to get some photos to share in on the daCi website and in our daCi newsletter."
To be involved contact Adrienne Sansom by email: This email address is being protected from spambots. You need JavaScript enabled to view it. and begin your videos today!
Our members have begun posting their videos, so we encourage you to check out the OBR group in daCi's member area or our youtube channel for inspiration and enjoyment of this years videos, like the below submission from New Zealand!
One Billion Rising
"Dancing insists we take up space, and though it has no set direction, we go there together. Dance is dangerous, joyous, sexual, holy, disruptive, and contagious and it breaks the rules. It can happen anywhere, at anytime, with anyone and everyone, and it's free. Dance joins us and pushes us to go further and that is why it's at the center of ONE BILLION RISING" – Eve Ensler
One Billion Rising is the biggest mass action to end violence against women in human history. The campaign, launched on Valentine's Day 2012, began as a call to action based on the staggering statistic that 1 in 3 women on the planet will be beaten or raped during her lifetime. With the world population at 7 billion, this adds up to more than ONE BILLION WOMEN AND GIRLS. On 14 February 2013, people across the world came together to express their outrage, strike, dance, and RISE in defiance of the injustices women suffer, demanding an end at last to violence against women. On 14 February 2014, One Billion Rising for Justice focused on the issue of justice for all survivors of gender violence, and highlighted the impunity that lives at the intersection of poverty, racism, war, the plunder of the environment, capitalism, imperialism, and patriarchy. For the third year of the campaign, One Billion Rising's global coordinators chose the theme of "Revolution" as an escalation of the demand for justice, and to build upon the massive efforts of communities worldwide that also looked at the roots and causes of violence as part of their call for justice. On (or around) 14 February 2015, millions of activists in over 200 countries gathered to Rise for REVOLUTION, to change the paradigm, demand accountability, justice and systematic CHANGE. We are rising to show we are determined to create a new kind of consciousness – one where violence will be resisted until it is unthinkable. In 2016, the theme of Revolution continues with a call to focus on marginalised women and to bring national and international focus to their issues; to bring in new artistic energy; to amplify Revolution as a call for system change to end violence against women and girls*; to call on people to rise for others, and not just for ourselves.
*Women and girls is an inclusive term reflecting all those who were assigned and/or identify as female.
Break the chain
Throughout the first three years of One Billion Rising, activists have used "Break The Chain" – written and produced by Tena Clark with music by Tena Clark and Tim Heintz – as an integral and creative aspect of their Rising events. When the campaign was first created in 2012, choreographer Debbie Allen gifted her choreography for "Break The Chain" to One Billion Rising. Since then, activists have been doing the original dance and interpreting it; making it their own. Others have created their own new choreography and incorporated into their events.
As the movement evolves, activists are invited to create and incorporate fresh new versions of "Break The Chain" into their rising events. Already communities around the world have adapted, localised and completely re-envisioned the choreography, in many places integrating the dance into their cultures so that it remains current and relevant. These incredible dances, as well as innovative versions and adaptations of the original choreography, have been shared throughout the campaign; they are unique and inspiring.
Organizers and risers are encouraged to continue to localize their artistic expressions by using any version of the choreography your community chooses including the original choreography or a new set of moves that express the energy and message of One Billion Rising: Rise For Revolution for your communities, groups, and networks. Or multiple versions, there's no limit to how many ways you can DANCE!
Break the Chain and DANCE for Revolution! Assemble your dance group together. Start to practice your own dance, or practice the online dance with us. Be ready to perform at february 14. (annual) somewhere in your own neighbourhood; a public place, a theatre, your dance studio or... another inspiring place.  
VIEW activist videos dancing their own choreography.